Wheel Restoration Waldorf, MD
Inexpensive to Repair
20+ Years Experience
100% Customer Satisfaction GUARANTEED
Increased Resale Value
We Fix Hail Damage
GET A FREE ESTIMATE
Your wheels play a vital role in the safety and functionality of your car. They support your tires and keep them in place. And they even smooth out the way your car rides on the road. So even a little bit of damage can cause problems. Have any of your car wheels been damaged recently? Then you'll want to get them checked out by a professional. 
Nationwide Dent Repair provides the best wheel restoration services in Waldorf, MD. Our goal is to make sure your vehicle is safe, rides smoothly, and looks great! Give us a call today so we can get fix up your vehicle.
What's in a Wheel?
There are many more parts to a wheel than you might think. So what's in a wheel?
In the middle, you have the

center cap

with the

center bore

in the back.
Your

bolts

go through

lug holes

and they hold the entire assembly together.

Spokes

radiate from the middle of the wheel to its outer part.
Other vital wheel parts include the

valve stem

,

outer lip

, and

barrel

.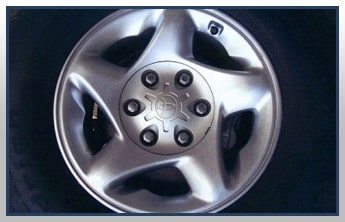 If any of these components loosen or get damaged, you should look into getting your wheel repaired. It depends on how bad the damage is to know if you need a full replacement.
Should I Repair or Replace My Wheel?
It really depends on the extent of the damage. But your wheel has to be in pretty bad shape for you to need a complete replacement. If you were in a severe accident or your damaged wheel is causing vibrating or pulling when you drive, it'll probably need to be replaced.
But if it's just a small dent, scuff, or scratch in your rim then a wheel repair might be just what you're looking for. Our advice is to talk to a professional and lean on their experience to let you know what the next steps for wheel should be.
Talk to a Wheel Restoration Specialist in Waldorf, MD
The team at Nationwide Dent Repair can examine your wheels, determine the extent of the damage, and properly diagnose what's needed. We have over 21 years of experience repairing damaged wheels! And we look forward to taking care of your vehicle.
Here's How We Can Help!
Hail Damage Repair
Small Dent Repair/Removal
Bumper Replacement
Car Wheel Restoration