Nationwide Paintless Dent Repair
You walk out of the grocery store after picking up some of your favorite snacks. And you notice a sizeable ding in your car door. Someone must have opened their door into yours or banged it with a grocery cart. How frustrating! Of course, your first thought is to go to a body shop. But after surfing Google for a few minutes, you realized that even if it's just a small dent or scratch, repairing it at a body shop would be ridiculously expensive.
Nobody wants to drop $1,000 on a minor dent removal issue. But is there any other option? Yes! Paintless Dent Repair to the rescue! PDR is a simple, inexpensive alternative to fixing minor bumps and bruises on your panels. Our technicians have the training and experience to gently massage the dents and dings out of your aluminum or steel panels.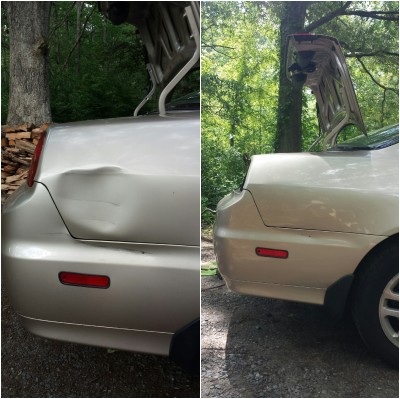 Is it Worth Repairing a Small Dent?
Protect Your Investment
Next to your house, your car or truck is probably your most significant investment. If scratches and nicks are left untreated, your panels will rust and degrade much faster! And a rust problem down the road is much more expensive to fix than a minor ding right now.
Increased Resale Value
Are you thinking about selling your car? Repairing minor surface issues and scratches will increase its resale value!
Aesthetics
Plus, nobody wants to drive around in something that looks like it lost a fight with a trash compactor. PDR can make your vehicle look as good as new!
Longer Lasting Vehicle
Last, but not least, if you take good care of your car, it'll take good care of you! PDR will make your vehicle lasts as long as possible.
Areas We Service
Waldorf, MD
Charles County
And Surrounding Areas
Why Use Us?
100% Customer Satisfaction Guarantee
We've repaired hundreds of vehicles and we always satisfy our clients. How do we do that? We don't stop working until you're happy with your car. Your happiness and our reputation depend on that.
Fast Service
Contact us today, and we're normally able to schedule your PDR service in just a few days! We know how frustrating it is when you have to book an appointment several weeks out. So we strive to get your vehicle cared for ASAP.
Local Employees
Our employees live in or around Waldorf, MD. And we've built our local business on important family values. Waldorf is our home. Charles County is our community. So our clients are our friends and neighbors. That's why we're fully invested in maintaining your vehicles, making them look good as new, and helping them to last as long as possible.
Quality Work – The First Time!
At Nationwide Dent Repair, shoddy work is unacceptable. Unlike many of our competitors, we'll never sacrifice quality to get the job done faster. We're the company you call when you want the job done right!
But Don't Take Our Word For it!
Here's What Our Customers Are Saying About Us…

"Had a dent removed on the left fender. The guys at Nationwide offered competitive pricing with quick service and were professional throughout the entire process."
Trevor R.

"Great job, had a nasty dent on the hood plus some minor ones on the door now they are all gone looking brand new again."
David J.

"Fantastic service, fast turnaround, it's like the damage was never there! Would highly recommend Nationwide to anyone that needs their vehicle taken care of."
Kevin L.